KIM HYUN JOONG (김현중) WORLD TOUR Updates – 2014.06.22 + Ticket Guide Taiwan and Bangkok
Tweet/ Credit:  501왕자 @501wangja  
Explosive popularity (Kim Hyun Joong)
Source: http://the-sun.on.cc/cnt/entertainment/20140621/00476_024.html + (trans) kelemama
韓國男團SS501成員金賢重將於下月12日在北京舉行演唱會, 門票昨日公開發售,粉絲瘋狂搶票,導致票務網站一度癱瘓。 金賢重得知銷情理想後十分高興,期待快點跟中國粉絲見面,又指除加緊排練外,更特別準備與粉絲接觸的互動環節,令粉絲十分期待。
Korean boy group SS501's member Kim Hyun Joong will be holding his concert in Beijing on 12 July, tickets were released yesterday, fans grabbing the tickets crazily,paralyzing the ticketing website for a moment. Upon knowing that the ticket sales was very pleasing, Kim Hyun Joong was very happy and hope to meet up with fans in China soon. And said that besides putting all effort in rehearsing, even specially prepared session to have interactions with fans, making fans looking forward to it.
---
Tweet Credit:  lovingkimhyunjoong @loving_khj  
Buying a ticket at the Taiwan website for concert on 5th July. Details and some explanatory notes http://www.lovingkimhyunjoong.com/forum

 Credit:  SP @illublue   (Reposted from lovingkimhyunjoong.com)

Ticketing site for Taiwan concert. Please note you have to sign up for membership prior to being able to book.  walkieticket.com/product.aspx?P1=0614271118 …

A rough guide to signing up for membership at the Taiwan concert site
https://www.walkieticket.com/member-join.aspx

notes: gender – 女female, 男male
Where I've stated to put address, the first column which had a selection put 海外地區(overseas), the second column is which continent. To make things easier and standard just select 其他 (others)

Siew

Buying a ticket for the Taiwan concert

Some notes

When you sign up your passport number for an overseas applicant becomes your user ID. And the password is set by you at registration. You will have to bring your passport at the point of collection.

The only options for overseas applicants (not sure about local) are collection at Famiport or 7-11.this is available after 3 days and presumably extends to day of concert upon arrival.

During the selection of seats, Red icons – sold. Grey (presumably those who pay via ATM) – sold but not paid for. Yellow – processing

Standing tickets have no numbers so you can purchase without seat selection.
In the selection box it asks for number of tickets required
The instructions here are primarily for seated tickets, but overall process is not too different.

I had some difficulty accessing the site and was only able to do this on 3G for some reason… Maybe someone can help with this. The system also appears a little unstable, occasionally after selecting ticket and proceeding it will tell you that your basket is empty. Assume this is the case if you do not get the credit card page and start again
@@@@@@@@@@@@@@@@@@@@@@@@@@@@@@@@@@@@@@@@@@@@@@@@@@@@@@@
Twqeet Credit:    lovingkimhyunjoong @loving_khj  
Tweet Credit:   M☆☆☆☆☆J @meesojoong  
RULES & DETAILS OF PRE-SALE TICKETS THAI Kim Hyun Joong World Tour Dream 2014

---

SPECIAL SHOW ROUND (ADDITIONAL ROUND)

Event Name: Kim Hyun Joong World Tour Dream 2014
Date: July 26th, 2014
Time: 06.00 pm onwards
Location: Thunder Dome Muang Thong Thani

Pre-Sale is the informal ticket selling activities via on-line channel. The objective of pre-sale is to create the window opportunity for fan club to reserve tickets prior to formal ticket sales. Methodology:

1. Pre-sale Ticket Buyers must register to be the member of the formal website www.tgroupthai.com starts from June 16th, 2014. The registration process requires the Ticket Buyer's First Name and Last Name according to their I.D., Sex, Birth Date, Phone Number, and e-mail address in order to receive the information. The registration process is free of charge. The applicant will have their own usernames and passwords when register on the website. The information will be used for purchasing tickets on Sunday 22nd June 2014 or participating in other later activities.

2. Pre-sale On-line Tickets Reservation will be launched on Sunday 22nd June 2014 during 11.45 am – 11.59 pm. Once the user enters into the system, the user will fill up the required information. The user will choose the seat prices and seat numbers right away. One system entry can reserve maximum 6 seats or less within the same price and the same zone. However, Each Buyer may reserve more than 6 seats or different prices or zone when enter into the system more than 1 time. The Customer who reserves tickets via this On-line Reservation may request to receive Tickets via EMS (with the additional fee of 50 Baht).

3. Once the required information are filled up. The system will provide the Reservation Code. The user must note down (memorize) the code, full amount of payment required, Bank Account information for Money Transfer, and **Payment Term** (Payment/Full Amount Money Transfer must be made within 4 hours after the Ticket Reservation).

4. Payment Amount will contain second digits Baht (x,xxx.xx Baht) The customers must pay full amount including the second digits for accuracy of verification.

5. After the payment is made, the customer will report Date and Time of payment to www.tgroupthai.com within the given time frame; otherwise, the reservation would be cancelled, and the company will not be responsible on any mistakes.

6. The Company's Officers will verify the payment information submitted by the Ticket Buyer, Confirm and Report purchase completeness on the system within 6 hours. The Ticket Buyers must review their purchase within 6 hours On-line. If The Ticket Buyer does not receive the confirmation, The Ticket Buyer must report the Company's Officers immediately at Tel. +66 95 861 8279 / +66 89 924 5911 E-Mail. tgroupticket@gmail.com Payment via credit cards will have additional service charge 5%- counter service Tesco and mPay will have additional service charge5%.

7. The customers will keep evidence of money transferred or slip (recommend to take photos or copies) together with the Reservation Code and use the information as the evidence to collect the physical tickets for preventing fraud.

8. After the ticket reservation are made and sent. The Ticket Buyer cannot change any information on any condition.

9. The information on receiving the Physical Tickets of this Pre-sale will be informed later via www.tgroupthai.com: http://www.facebook/tgroupthai: Twitter@Tgroup_thai

10. The Customer may ask for more information (regarding pre-sale additional round only) at www.tgroupthai.com: http://www.facebook/tgroupthai: Twitter@Tgroup_thai: Tel. +66 95 861 8279 / +66 89 924 5911 Pre-sale includes 100% of Tickets All Prices, All Zones. The Balance (Leftover) Tickets will be Re-sale on Monday, June 23rd, 2014 at 00.01 am. onwards via all normal channels at www.tgroupthai.com

**Please check office hour of T GROUP THAI.CO., LTD.

Special Benefits
1. Exclusive offers! Customers who buy pre-sale tickets (during June 22nd THB will have the opportunity to be four (4) lucky winners to win a chance see KHJ world tour on June28th 2014
(scheduled to be held on 27 -. June 29, 2557)
* The names lucky customers would be announced June 23rd
* Lucky customers must have at least 6 month of passport validation
* The privilege Include airfares / accommodation / airport taxes / ticket the concert in Korea.

2. Ticket Price 5,500 and 4,500 Baht (all seats) will have the opportunity to take group photos with Kim Hyun Joong (20 persons per total of group 25 groups).
– Tickets price 5,500 THB 20 persons per total of 15 groups.
– Tickets price 4,500 THB 20 persons per total of 10 groups for 10 groups.

3. All seats are eligible to win posters signed by Kim Hyun Joong (300 Posters).
– Tickets price 2,000 THB 40 seats.
– Tickets price 3,500 baht 60 seats.
– Tickets price 4,500 baht of 100 seats.
– Tickets price 5,500 baht of 100 seats.
* Customers can pick up autographed posters after the performance at T Group's booth only *.
*The privilege is served only one prize per one person

Noted
For Exclusive groups photo and autographed posters applied for those who purchase tickets by July 15th
announcement for winners is on July 18th
* T Group Co., Ltd. has all rights reserves for these privileges
---
Tweet Credit:  
KimHyunJoong's Girl♥
@

Triplekwan501
A2 #khjinbangkok2014 Sold out!!

RT @hijoyjung A2 เต็มตั้งแต่ 5 นาทีแรก !!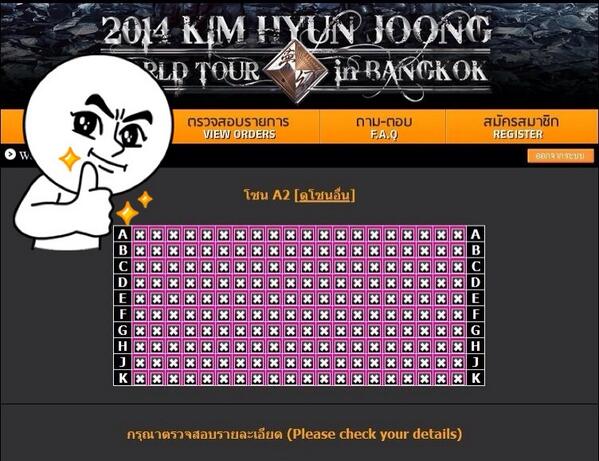 Sold Out!! Zone B,E,S Price 2,000 (฿) #Khjinbangkok2014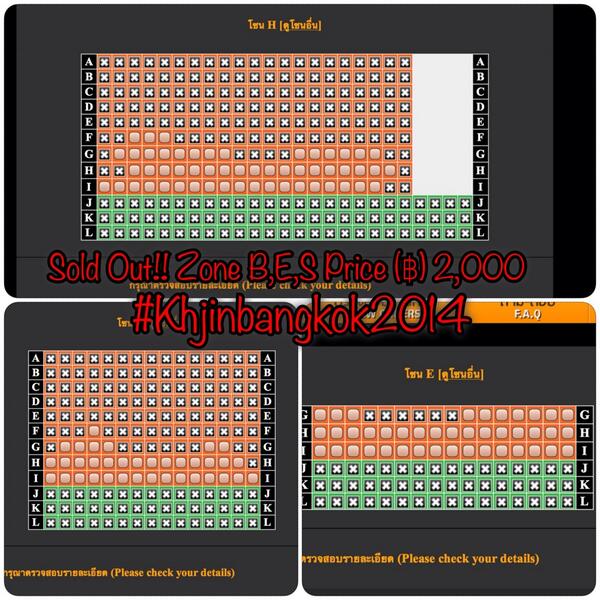 4 responses